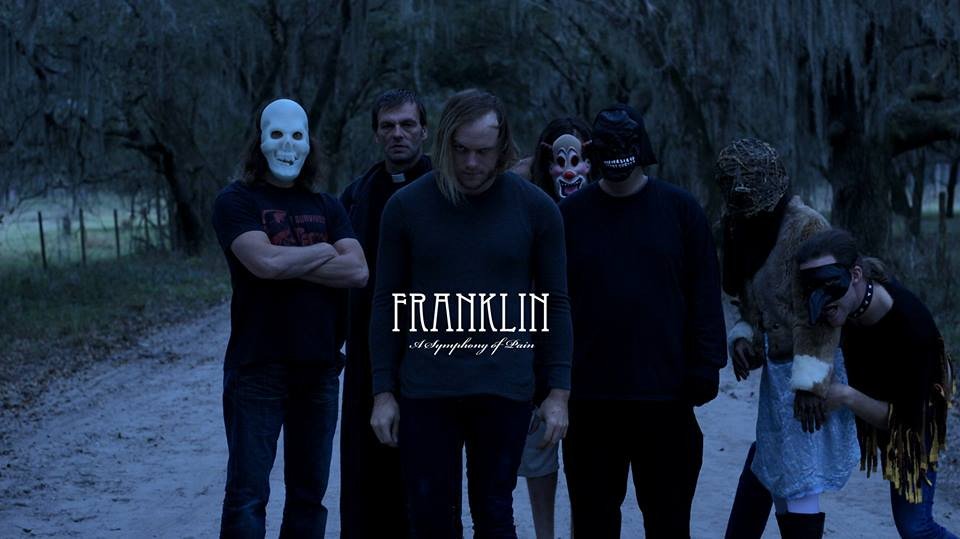 My favorite thing about being a genre fan is that there is never a shortage of strange, interesting movies to check out.  Every few months I stumble on an oddity filled to the brim with bizarre, original material that reinvigorates my interest and sends me back to the web to find that next hidden gem.  This current gem that I am discussing is this year's Franklin: A Symphony Of Pain.  It is a psychedelic freakout of faith, sex, torture and self-realization that is unlike anything that you have ever experienced.  The director (Jeremy Westrate) takes the "kitchen sink" approach to storytelling and packs more ideas into this film than a corporate think tank.  In case I am not being clear, this is an ambitious and absolutely batshit crazy flick that needs to be seen to be believed.
This won't be easy, but I am going to attempt to explain the basic story.  The titular Franklin spends a day out in nature and is quickly abducted by masked occultists who torture and exploit our protagonists until he submits to his pain.  After waking in a new location, he is then assaulted by foul-mouthed 60's "street toughs" who then beat the breaks off of him again.  These run-ins repeat to differing effect and are inter-cut with hellish vignettes and dialogue with a less than comforting priest. Each scene reveals a little hint of the developing story and is accompanied by a maddening score of both classical and pop-inspired music.  Colors shift, as well as perspectives and the camera never sits in any kind of static state.  "Break neck" is how I would describe its pace.  With this kind of experimental filmmaking, not everything works.  There are some scenes that may feel a little indulgent, but with a film like this, it is expected.  Actors can be middling to cartoonish, but good writing and spot on camera work makes up for the performer's shortcomings.  There is very little to compare this film to and that (in itself) is a great reason I recommend this movie.  If you like acid trip cinematography mixed with absurd levels of violence, then this is the flick for you.  Franklin: A Symphony Of Pain is currently available on DVD and Vimeo.
4/5 STARS