BY BLAINE MCLAREN
There are very few films as aptly titled as The Greasy Strangler.  This films oozes with unpleasant humor, bizarre vignettes and drawn out scenes emphasizing an older man's penis.    It takes some time to adjust to the drawn out scenes and SOV acting choices, but once it clicked with me it went from revolting to oddly endearing.   I use the word endearing because beyond all of the disgust, it is the story about two outsiders who need each other more than either will ever admit.  All of this sounds pretty gross (and it is!), but it helps to create an unforgettable comedy that could be one of my favorite films of the year.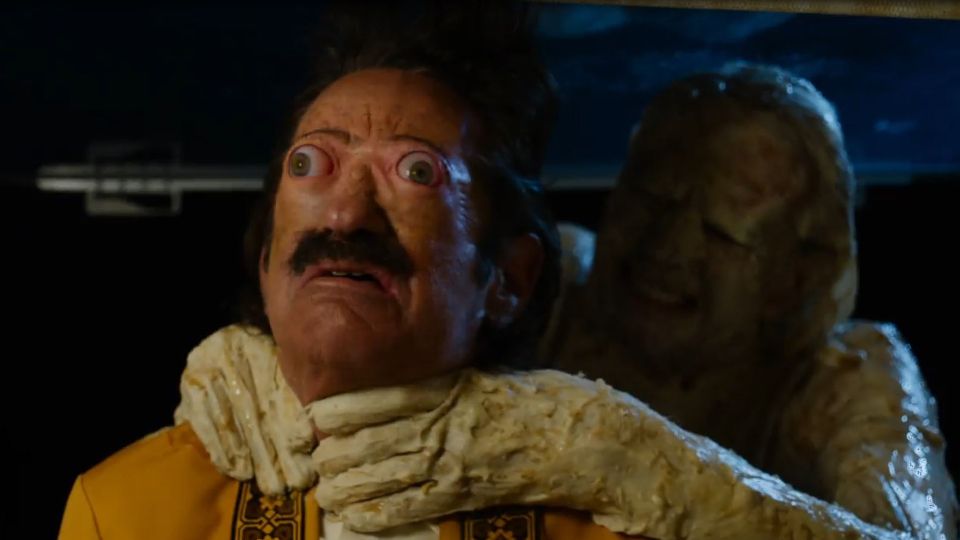 The story revolves around Big Ronnie (Michael St. Michaels) and Big Brayden (Sky Elobar) who are a father/son duo.  They lead a co dependent life where Ronnie lets Brayden live with him for free if he cooks only extra greasy meals for him.  They spend their time discussing grease and fat, only taking breaks to fart and call one another "Bullshit Artists" (a phrase used at least 50 times in the film).  Their dynamic seems to be working until Brayden meets a women named Janet (Elizabeth De Razzo).  This new relationship throws a wrench in their day to day life and could be causing more "greasy" stranglings in the neighborhood and the grossest love triangle in the history of film, maybe the world.
What's most impressive about The Greasy Strangler is how well the film is actually made.  Scenes are shot well and the absurd characters make perfect sense within this gonzo universe created by Director Jim Hosking.  The casting is insane and they all give fantastic performances, especially Brayden.  He serves as the heart of this vile story, taking his abuse on the chin.  Every time Ronnie mentions him "crapping on the bed", he shrugs it off and continues to care for his father.  The gore only adds to the surreal comedy.  All of the violence is played for laughs and never comes across mean-spirited.  Faces implode with punches and eyes pop out of socket when people are chocked, giving it a cartoon-like quality to it all.  I'm not really sure who this film is made for, but I am just happy it was made.  Hats off to Spectrevision and hope they continue to take chances on films like this.  The Greasy Strangler is currently available on VOD.
[usr 4.5]