BY BLAINE MCLAREN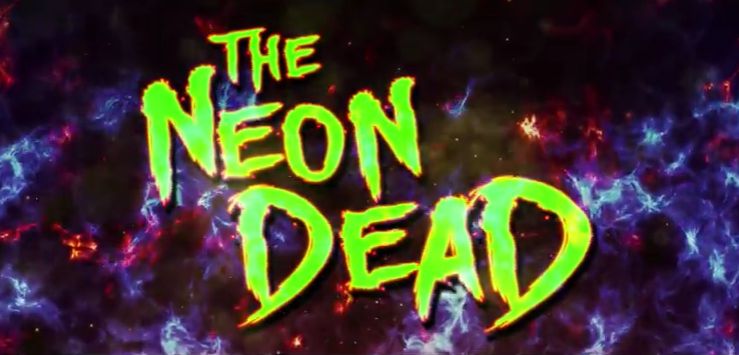 A few years back I saw a trailer for a creative little feature call "Invasion of the Undead" and I was struck by its throwback style and low budget charm.  The trailer was a barrage of neon colors and 8 bit nostalgia that instantly got me pumped for its release. Unfortunately I missed its Atlanta premiere, but I continued to keep up with its progress, saw it on Vimeo and I was surprised when news of the film went silent.  Cut to a year later and the Monsterbuster Entertainment Facebook page finally announced a release date and a new (and better, if you ask me) title, The Neon Dead!  This prompted me to dig up an old DVD copy and revisit this fantastic indie gem.
The story is about a young, unemployed woman named Allison (Marie Baker) who inherits a haunted property from her grandmother.  Once she stumbles across one of the Undead, she (with help from a girl scout) calls on a duo of slacker type paranormal investigators (played by Greg Garrison and Dylan Schettina).  Once the hapless duo arrive, they encounter something much older and more dangerous than either of them could ever imagine.
I've watched this film multiple times now and I am repeatedly impressed by the quality and care put into The Neon Dead.  The lighting and sets are spectacular, giving the film a dreamy vibe that is infinitely watchable.  The special effects are over the top and unique, offering a new mythology and cast of villains brought to life on a minimum budget.  The decision to swap gore for a fluorescent lightshow of violence is a choice that a much lesser director would not have made.  The only place where The Neon Dead lacks is the dialogue early in the film.  Some of the writing can feel a little stiff, but the actors are likeable enough to forgive these awkward moments.  So if you are worn out on gore heavy zombie flick and found footage retreads, I suggest checking out this charming low budget joy ride.  The Neon Dead is currently available on DVD and VOD.
[usr 4]