BY BLAINE MCLAREN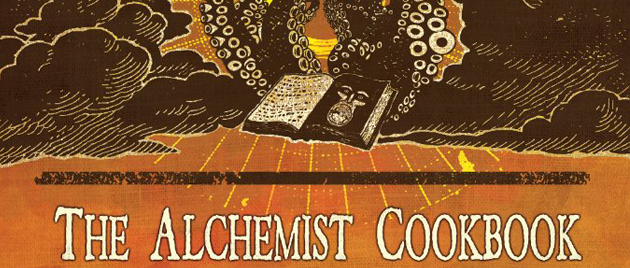 Joel Potrykus has been an interesting director over these past few years.  Both Ape and Buzzard were amazing exercises in nihilism, adding a new layer to the well worn territory of "slacker" films.  The Alchemist Cookbook is no exception and manages to do more with even less.  All of Porykus' films have been small, but this flick boasts a cast of two, with a couple adorable cameos from some animals who play major parts in the film.  Most of what is on screen would be pretty boring if it was in the hands of a less skilled artist, but the casting and perspective makes for a fantastic depiction of the banality of solitude.
The story is very simple. A guy in his twenties named Sean (Ty Hickson) has moved to the woods to live the life of an alchemist.  He is trying to shift base metals to gold and is not afraid to turn to darker forces to achieve his goal.  His only companions are his cat and his friend Cortez (Amari Cheatom), who brings him supplies.  Once he makes a wager, these dark forces come to collect and they want what he has promised.
The description sounds more action packed than what the film actually offers.  Most of the "demonic" is off screen and portrayed brilliantly with top-shelf sound design.  Deep bellows rattle from the woods and the actors really sell what may or may not be out there.  The camera feels very natural and makes monotonous tasks seem reviting and even watching our protagonist eat a bag of doritos (in real time) feel cinematic.  Its very hard to describe this director's work, but his style will either intrigue you or bore you to death.  I fall in the first category and cannot wait for more work from this truly unique voice in the world of independent cinema.  THE ALCHEMIST COOKBOOK is currently available on VOD.
[usr 4]