BY BLAINE MCLAREN
Todd Sheets is a living legend of no-budget filmmaking and he is a filmmaker that I am always excited to see anything that comes from him.  Movies like Zombie Bloodbath, Goblin and Nightmare Asylum were "go-to" films back in the VHS era and he has made a fantastic comeback over these past few years.  Contributing to a couple anthologies and his impressive feature House of Forbidden Secrets.  The title and one-sheet alone had me hooked for Dreaming Purple Neon, so when I had the opportunity to check it out I did not hesitate one bit.  This film packs a lot of genres and ideas into its nearly 2 hour runtime and Mr Sheets manages to pull it off to an impressive degree.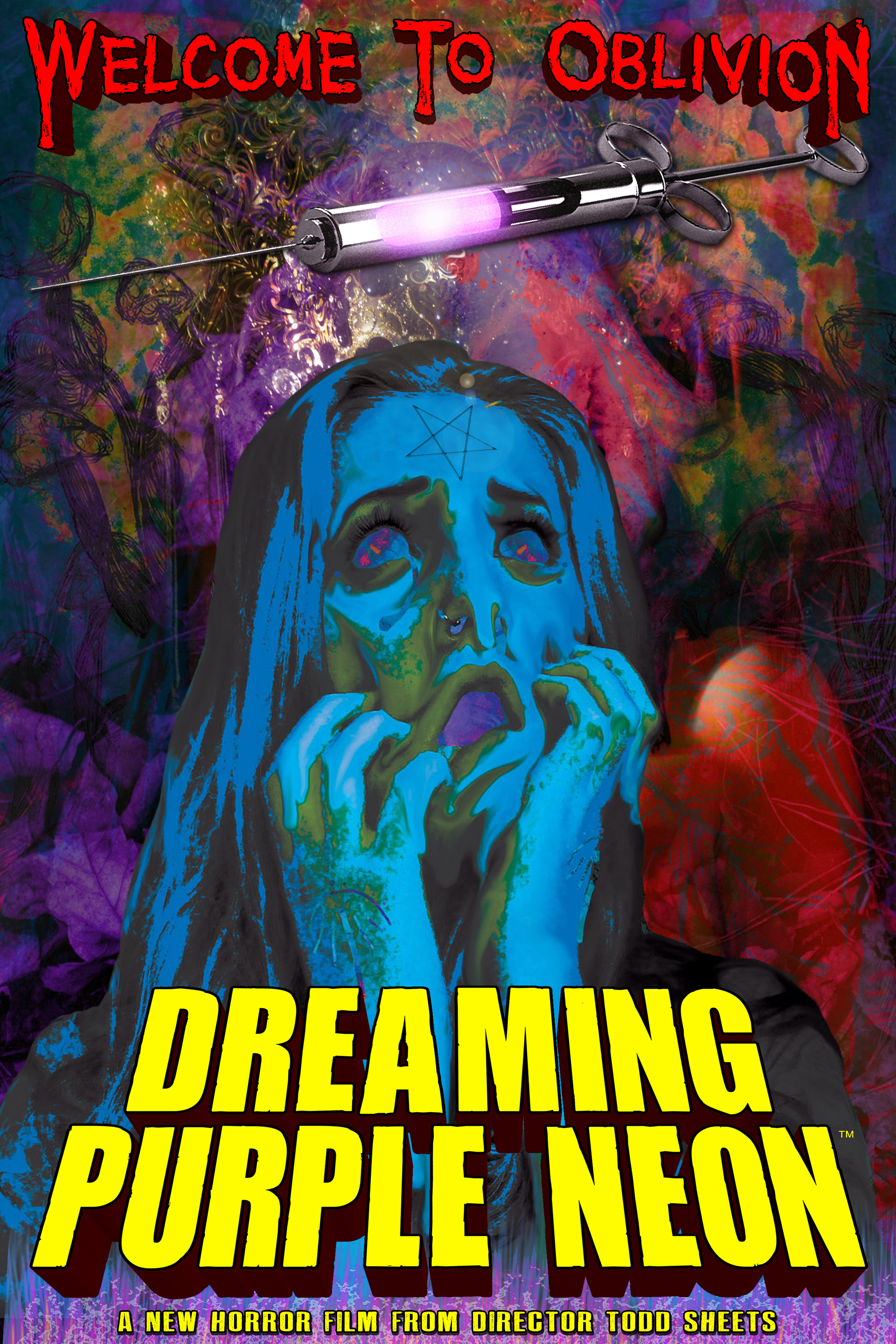 Dreaming Purple Neon begins with two drug dealers/gangsters, Tyrone (Ricky Farr) and Ray Ray (Antwoine Steel), who are dealing with an associate who has clearly crossed the two.  Once things go south, they kill the associate and scare the hell out of their employee Catriona (Millie Milan).  She freaks out, steals the mysterious drugs and flees to one of her friends who works for a dentist.  At the same time, Dallas (Jeremy Edwards) has returned to his hometown to try to settle things with his ex.  It just so happens that this leads Dallas to the same dentists' office as Catriona.  Once all of these stories intersect it leads all of our players into the clutches of an evil Satanic cult that is manufacturing a drug called (you guessed it) Purple Neon.  It is at this point that things get messy and our characters end up in a fight for their lives and sanity.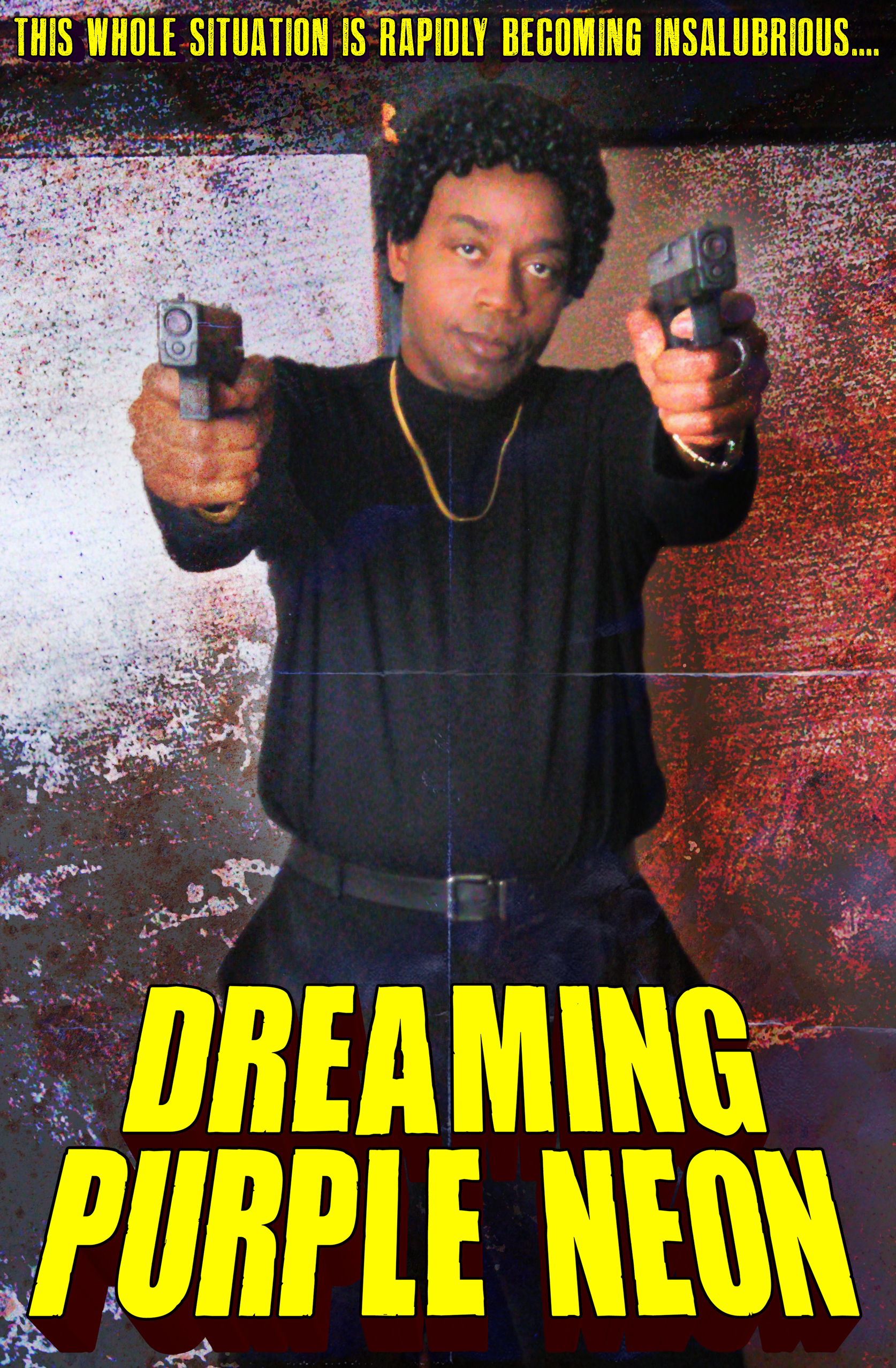 This film harkens back to a lot of what has made Todd Sheets early films so enjoyable, but the level of craftsmanship makes this film much more impressive than what you would expect.  Scenes are shot well and scenes feel deliberate and lack the padding you would usually see in a film like this.  Todd Sheets' direction feels very confident and this confidence affects everyone involved in the film.  The acting is a little rough around the edges, but the lines are delivered with that same confidence, which (instantly) sells the viewer into believing what they say (no matter how ridiculous).
The biggest star of this film is the practical FX on display in this film.  They must have gone through gallons and gallons of fake blood.  Gooey latex and prosthetics get torn to shreds by cleverly designed demons, people and monsters throughout.  I can only imagine how much work it was to clean up after these scenes, but this film puts every single dollar if its budget on the screen.  The sign of a true indie filmmaker that understands why we all love these types of films.  The only complaint I found was that the (occasional) CGI really stood out.  With these budgets it is necessary, but the top notch practical FX made the digital FX look worse.  That tiny (and easily overlooked) gripe aside, this is an original horror that rises above your normal glut of low budget horror that fans deserve.  Todd Sheets has blessed us with another great splatter-classic that gore fans will be singing praises of for years to come.   DREAMING PURPLE NEON WILL BE RELEASING SOON AND I WILL UPDATE WHEN IT IS ANNOUNCED.